The wait was long but the new vintage of our Criseo Bolgheri DOC Bianco, 2018, has finally arrived.
There is always a bit of a wait, but this year has been longer than usual. Every year we finish it before the following year is released because it is a wine produced in small quantities. In fact, it comes from a single vineyard of only 0.7 hectares, Campo Bianco, located close to our ford (= Guado), before the forest begins.
The 2017 vintage had been particularly low: the drought had significantly reduced the production yields. Because of this and the more attention derived from the TreBicchieri Award of the Gambero Rosso, the 2017 vintage finished very quickly. If you are curious to taste it, there are only a few last Magnums.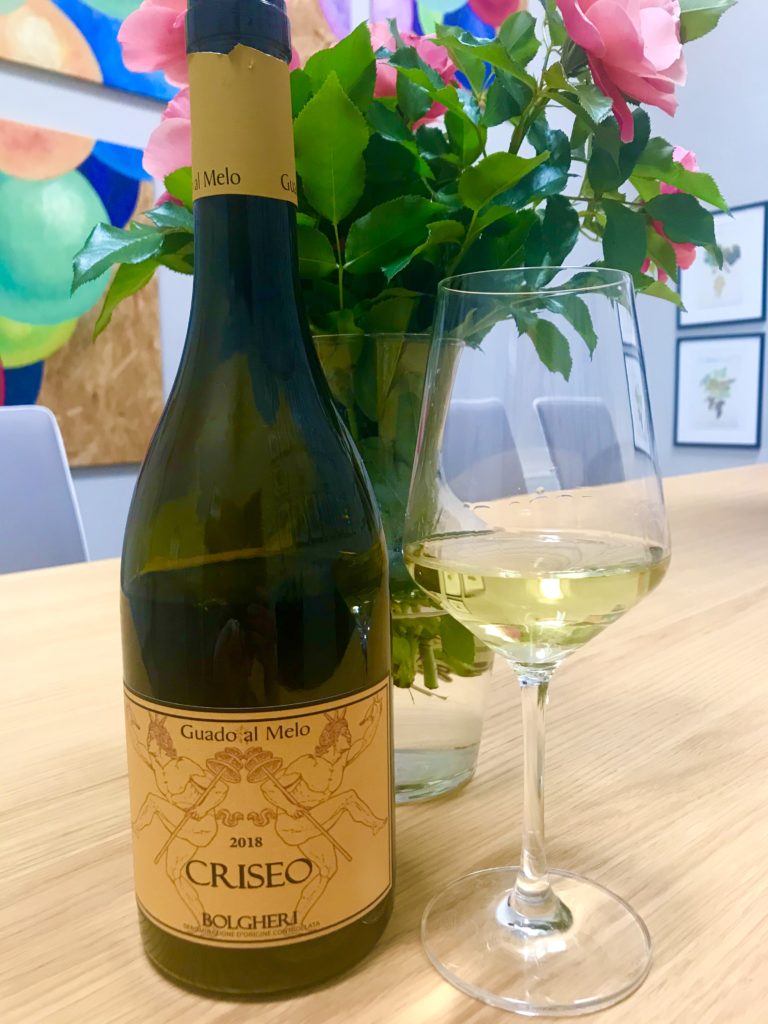 2018 was a very regular year, with characteristics of greater climatic freshness than 2017. Spring was very rainy and made it possible to recover the dryness of the previous year. Summer was instead, as normal, hot and dry, without particular excesses. Some short rains cooled the temperatures at the end of summer, without creating problems. This seasonal trend allowed a longer ripening than usual: we harvested the Campo Bianco vineyard on September 10th.
The harvest date varies with the vintages: in the hottest and driest it can be brought forward to the end of August or in the first days of September, in the cooler it can moved a little further. The important thing is to seize the perfect moment of synergic maturation of the vineyard, in which the perfect balance is found between the varieties present (mainly Vermentino, Fiano, Verdicchio, Manzoni Bianco, Petit Manseng). In this choice, the experience we have acquired in over twenty years is very important.
This wine is a field-blend. The grapes, which grew together in the Campo Bianco vineyard and were harvested together, are also co-fermented after the selection. The co-fermentation is a old traditional practice, capable of making them express a unique personality.
Its taste? It is full-bodied, soft but balanced by a great freshness. It also has an incredible aromatic complexity, with aromas that change constantly as the wine is oxygenated in the glass. Fragrances of grapefruit, tropical fruit, pastry, sage, white flowers, saffron, mineral notes, hydrocarbons are released. Over time the latter will prevail, because it is a white wine that can have a long aging, thanks to the fact that after fermentation has remained in steel on the lees for almost a year. Now, we propose it after another year in the bottle.
It is excellent now, but if you love whites with more evolved notes, such as Michele and me, you can safely keep it in the cellar (at low temperature and with a bottle lying down) for a few more months … or a few years.
If you resist!